WordPress block themes have been around for a few years now. We often tout them as the future of theming. But they continue to make up a small portion of the market. And so we're still waiting for the watershed moment when they overtake classic themes.
The number of block themes in the WordPress theme directory is growing. But what about the commercial market? It seems like classic themes remain the top choice. And we mean that literally.
There simply aren't many block themes for sale. For example, let's look at Themeforest. The online marketplace has over 11,000 WordPress themes available.
But only 200+ options are labeled as being compatible with the Block Editor. That could be misleading, however. Whether they work with the Site Editor is another matter. Some or all of them may be classic themes that work with blocks.
The traditional theme market hasn't embraced block themes. Why is that? We found one person trying to change the narrative.
How Brian Gardner Looks to Boost the Block Theme Market
Designing beautiful block themes is nothing new for Brian Gardner. The WP Engine developer advocate has had a hand in several projects. The free Frost theme is among the most notable examples.
Now, he's aiming for the commercial theme market. Powder Studio is billed as a "block-based design system."
The theme uses modern WordPress features to enable versatility. It takes advantage of both block patterns and style variations. Theoretically, this allows users to build a custom website more quickly.
Could this be the "killer product" that WordPress needs? The WP Minute spoke with Gardner about Powder Studio and the challenges of building a commercial block theme. Our conversation has been lightly edited for clarity.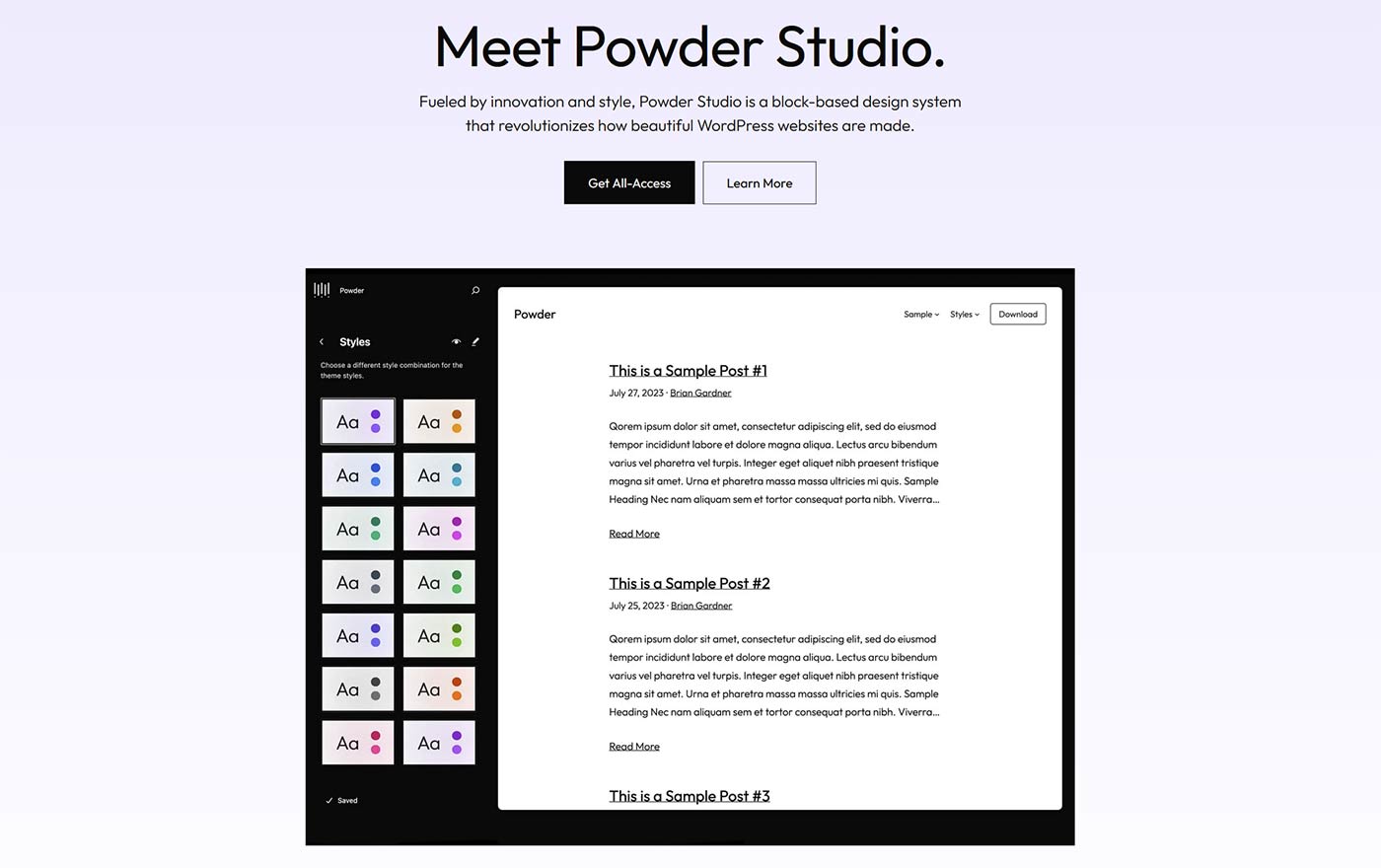 The WP Minute: In your view, why haven't block themes taken off on a commercial level?
Brian Gardner: Seeing that the Classic Editor plugin is active on over 5 million websites, many developers and users appear hesitant about adopting new changes.
For developers, transitioning can disrupt their established workflows and demands a significant time commitment. On the other hand, users might feel that if their sites are functioning smoothly, there's no pressing need to switch to a block theme.
While this is a broad observation, it's clear that the block-based system represents the future of WordPress. Embracing this change is prudent. The next big wave is on the horizon, and I'm eager to ride it.
TWPM: Have you spoken to other developers that are reluctant to switch from classic themes?
BG: Indeed. Freelancers seem more inclined to embrace the latest building methods with WordPress. Understandably, agencies are more hesitant.
Given their emphasis on established workflows and efficiency, the transition is bound to be more gradual. Such a shift necessitates a considerable time commitment and needs to be justified across various fronts.
TWPM: Can you tell us a bit about Powder Studio's background? What inspired the project?
BG: The Powder base theme originally started as a fork of Frost. I wanted a simplified block theme to use as a starting point without the need to delete several functions, files, and a library of patterns.
However, as the Site Editor evolved and with the approach of WordPress 6.3, I recognized the potential of a singular, self-sufficient WordPress theme. I want to revolutionize how beautiful WordPress websites are made by embracing the power and flexibility of block-based design.
TWPM: WordPress themes have traditionally been marketed as a jack of all trades or for a niche purpose (eCommerce, portfolio, etc.). How do you envision Powder Studio being used?
BG: Short answer: it works both ways. The Powder base theme is powerful enough to serve as a jack of all trades. With 22 style variations and 46 patterns (and more coming), it is possible to build sophisticated websites already.
Additionally, Powder Studio features a Figma design library, perfectly aligned with the base theme's patterns. Moreover, the recently introduced child themes (Powder Social, for example) provide specialized designs tailored to niche requirements, arming freelancers and agencies with an array of elegantly crafted themes for their clientele.
TWPM: What sort of technical challenges did you face in building a versatile block theme? Did you need to take a different approach compared to a classic theme?
BG: Believe it or not, not many. Having co-created the Genesis Framework with my colleague, Nathan Rice, my deep understanding of WordPress (such as the template hierarchy) served as a solid foundation to embrace the new paradigm of building themes.
Much of the new functionality is built directly into WordPress core, which means block themes require knowledge of HTML, CSS, and what we see in theme.json.
TWPM: The theme has a very unique pricing model where each tier offers unlimited usage. How did that come about?
BG: Since the Powder base theme is already accessible in the WordPress directory, offering limited plans for websites using it seemed counterintuitive.
I created Powder Studio out of my belief in block-based design and the potential of WordPress. I aim to provide designers and developers with a user-friendly system unlocking vast opportunities and fostering business growth. I strive to empower, not dictate, how my digital products are used.
TWPM: What are your thoughts on the future of block themes in the commercial market?
BG: I'm incredibly optimistic. Having been instrumental in molding the premium WordPress theme market in the late 2000s, we stand at the precipice of a new renaissance, much like before.
Although the composition of block themes differs considerably from the classic ones, the surge in demand for the former is evident, especially with the recent 6.3 release and the upcoming arrival of 6.4.
I have always operated under the "be the change you want to see in the world" mantra, and as we move forward with WordPress 6.4 and beyond, my plans will support that.
Looking To Build WordPress Theme Market 2.0
The transition to block themes was never going to be easy. Several obstacles stand in the way of their taking over the market.
Perhaps the entrenched market for classic themes stands tallest. Theme developers have invested a lot of time and effort into these products. They're not about to abandon them because something new has arrived. And without demand, they're unlikely to release block themes of their own.
User awareness is another barrier. Does the average website owner know what a block theme is? And if so, do they know what makes these themes different? The concept may not be as publically accessible to casual users.
That leaves freelancers and agencies to spread the word. Some in this group are hardcore PHP developers. Designing themes in the browser may not appeal to them. And they like the flexibility offered by classic themes.
But Gardner's Powder Studio may pique their curiosity. It could be a hit if the theme helps them do more with less effort.
That may jump-start the block theme market. But it's going to take time. Anyone looking to build a product in this space will have to play the long game.
Many thanks to Brian Gardner for speaking with us! You can connect with him via his website.