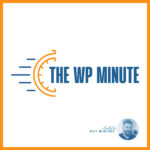 Gutenberg, WordPress 3.8 Release, WooCommerce & Jetpack
WordPress 5.8 is still marching along with modifications for release in July. Eighteen bugs and fixes were applied from Release 3 concentrating on polishing existing default themes, fixing bugs in the new block Widget screen, and squashing Editor bugs collected during beta.
WPTavern posted a review of the Gutenberg 10 updates in the plugin. The Query and Query Loop blocks were renamed, hopefully clearing up all the confusion for end users. The Query Loop block has been renamed to Post Template to better represent its purpose within Query, whereas the Query block label now refers to it as Query Loop.
I enjoyed Justin Tadlock's take on WordPress theme lock-in, in the block-era.
"I do not necessarily see this as a Bad Thing. We have always had these little silos in the WordPress ecosystem, and they have mostly worked out."
WooCommerce News. The first release candidate is now available for WooCommerce 5. The planned release date is July 13.
Jetpack launched a new mobile app. Automattic has launched a new mobile app for Jetpack, available on iOS and Android. The app features an array of Jetpack-specific features, including:
Backups and restores
Security scanning
Activity monitoring
Site stats
And more
Security in the news
Ithemes Security Pro 7 was released with significant improvements and a redesigned interface.
Tony Perez writes on NOC about how we communicate #wordpress and #security. People focus on all the tools and configurations, and not enough on the actions they're trying to prevent. He covers his approach in this article about WordPress in the Enterprise.
According to ehackingnews.com Over 800 million WordPress-linked records are leaked in this misconfigured cloud database associated with DreamHost, a popular WordPress hosting platform. A fix was made "within hours" of the discovery.
Grabbag
Ninja Forms celebrates 10 years! Congratulations to James Laws and Kevin Stover. https://twitter.com/jameslaws/status/1409589138257371141?s=21
WPEngine is now offering Local 6.0 Pro free for everyone. As of June 29, 2021, everyone has access to Local Pro tools and features for free. This is another great tool for developing locally.
Alex Standiford at WP Dev Academy released his new course that teaches how to build modern, scale-able WordPress plugins quickly. If you're a developer looking to up your WordPress game, this course is for you.
Just how competitive is the membership plugin space? Learn how Paid Memberships Pro has grown over the last 8 years in my interview with Jason Coleman on the Matt Report.