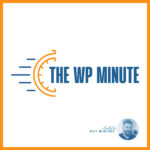 It's the WP Minute! I'm Helen Hou-Sandi, filling in for Matt.
This episode is brought to you by FooGallery, check out their latest WooCommerce integration to start selling images right through WooCommerce, head on over to Foo.Gallery for more information!
You know what it is, everything I mention here will be linked up in the newsletter and the blog post. Check out thewpminute.com for the links.

Let's get into the News
Video Press announced that they have a new refreshed player that offers creators an intuitive design that puts their content in the spotlight. Video Press is fully integrated into WordPress so neither you nor your audience need to be redirected to external apps. You may already be familiar with VideoPress which is included in the Premium, Business, and eCommerce plans on WordPress.com and powers WordPress.tv. If you are a self-hosted site, you can get VideoPress through Jetpack, now available as a standalone product.
The brand new default theme Twenty Twenty-Two is targeted to be released with WordPress 5.9 in December.
This flexible default theme for WordPress takes advantage of the Full Site Editing and Global styles features, which we have seen recently. Kjell Reigstad, the lead designer covers the customizations nicely over on make WordPress.org where they are looking for community involvement. Head over to get involved and weigh in on the future of default themes.
Joost de Valk tweeted this week that he is excited about the news of a proposal also over on make WordPress.org from Ari Stathopoulos proposing the creation of a team focused on the performance and speed of WordPress. It seems that in comparison to some other platforms, WordPress is falling behind. A team will bring more organization and visibility to this effort. Check out the proposal and get involved if this is your area of expertise.
Davinder Singh Kainth over at the WPWeekly is running the WP Awards 2021 event. You can vote for your favorite WordPress Plugins, Themes, Tools, and Services at the WP Awards 2021 event. Nominations are open now. Voting begins November 1st with results in December. Be sure to send over your nominations or become a sponsor.
WPMainline wrote an interesting piece about being honest with users and hidden fees. The article covers a tweet from Mark Zahra mentioning that he had been contacted by someone in the WordPress community who was working on a post that would list some of the best plugins to use. What set this email exchange apart from others is that the author told him that in order to be included in the post, he would need to pay a fee. Yes, pay-to-play. Jeff's article is a good review about transparency when money is being exchanged. This is a good reminder when working in the WordPress community.
How about WooCommerce?
WooCommerce continues to be one of the world's most popular e-commerce solutions, processing billions of dollars in transactions. However, integrating and managing in-person sales with a WooCommerce online store hasn't always been seamless and can be time-consuming and difficult for website developers and business owners alike.
Back in September, GoDaddy launched GoDaddy Payments' new point of sale (POS) hardware with industry-low credit card transaction fees, which rounds out their commerce solutions. And now GoDaddy Payments' POS is fully integrated with the WooCommerce online store to make in-person payments quick and simple. This is a great addition to manage in-person and online transactions in the Payments hub of the WooCommerce dashboard. Congratulations on the new launch!
And now, from the grab bag!

Heropress launched its multi-project portal. Topher and Cate DeRosia created the hub to display the newest items from the HeroPress network as well as other news from the community. This portal combines all of their work in a single space and has a beautiful new design.
Jill Binder tweeted that the first 2 #WordPress #WPDiversity programs of 2021-2022 are well underway, and now the focus is on the 3rd program. Jill leads the program for speaker diversity and let's support her in this effort.
And there is another effort for you to support centered around plugins. It's Matt Cromwell's ticket on WordPress.org for dynamic sharing images.
Finally, if you enjoyed my talk at WordCamp US a couple of weeks ago, I'll be showing off way more of the actual editorial experience of the White House in a couple of weeks at Clarity, the premier design systems conference. It's entirely online and you can still grab a ticket, although fair warning, it's a conference with conference pricing, not a camp.
We have a new segment this week by Bob Dunn and DoTheWoo and your one-minute Woo experience. One-click solutions are coming out to address the perfect checkout process. You can listen to the check-out processes on the Do The Woo roundtable.
This was another exciting week for new members joining the community. We welcome WPMainline, Brad Williams, Justin Ferriman and Seth Goldstein who will offer a hand in sharing the news in the WordPress space. If you want your hand in the weekly news, head to buymeacoffee.com/mattreport. You can buy Matt a coffee to support the show or join as a member for $79 for the year to get access to the private Discord server.
That's it for today's episode, if you enjoyed please share it on your social media, leave us a review on Apple Podcasts or Podchaser. Don't forget to tell your friends how cool this episode was with me was and jump on the mailing list at thewpminute.com.