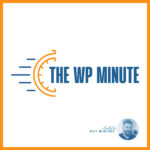 We have a quick run down this week…let's Do the Woo! (Hi, Bob)
WooCommerce has invested in one-click checkout platform, PeachPay. According to PeachPay's PR post:
Cart abandonment is a significant problem for eCommerce businesses – in 2021, the global average rate has risen from previous years to 78.65%. PeachPay aims to significantly reduce this by providing shoppers with a frictionless, one-click checkout experience.
Robert Jacobi covered the investment:
So if we do a little math, the investment for PeachPay is no more than $450,000 (assuming that the 30% filled of $1.5 million includes the recent investment).
View his link in the show notes to read through his interview with David Mainayar, co-founder and Chief Growth Officer of PeachPay.
Other Woo news: Automattic purchased woo.com for an undisclosed sum of money.
Yoast has re-shaped their Diversity Fund project in the wake of COVID and the challenges of travel, stating:
We want to keep our Diversity fund alive and we want to keep helping people in the WordPress community. That's why our Diversity fund will now be used to sponsor people that work on a project that benefits WordPress. This can range from teaching a group of people anywhere in the world how to use WordPress to writing patches for Core.
Speaking of travel, Will We See In-Person WordCamps in 2021? An Open Discussion on a Path Forward, asks Justin Tadlock of the WordPress Tavern.
One commenter states:
I don't see why this is so complicated. If large, indoor gatherings are legal in the host country, then WordCamps should go ahead with no extra restrictions beyond those prescribed by the local law. People can then decide to attend or not.
Matt Mullenweg replies: "This is a good way to approach it."
FluentCRM wins Torque Mag's Plugin Madness 2021 — congrats FluentCRM, but I still can't wrap my head around putting my CRM into my CMS…
I stumbled across WPStackable which is setting its sights on launching a new v3 for Gutenberg soon. Which looks like a competent suite of Gutenberg blocks.
Finally, WordFest Live call for speakers is now open, The festival of WordPress kicks off July 21, 2021.
This week on the Matt Report, I ran a "play it forward" episode highlighting 3 other podcasts in our space, WP Coffee Talk, Women WordPress, and Hallway Chats.
That's it for today's episode, if you enjoyed please share it on your social media, leave us a review on Apple Podcasts or Podchaser!