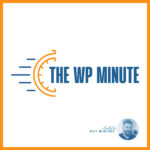 Let's start with the good news, before we get into the…not so good news.
Matt Mullenweg announced that CC Search is joining the WordPress project stating that the WordPress community has long advocated for a repository with GPL-compatible images. I think this is timely and needed with the not-so-recent announcement of Unsplash being acquired by Getty Images.
Now time for the not so good news — What the FLoC?!
First, what is FLoC? Well, here's the definition straight from Google:
Federated Learning of Cohorts, FLoC enables ad selection without sharing the browsing behaviour of individual users. FLoC provides a privacy-preserving mechanism for interest-based ad selection.
As a user moves around the web, their browser uses the FLoC algorithm to work out its "interest cohort", which will be the same for thousands of browsers with a similar recent browsing history. The browser recalculates its cohort periodically, on the user's device, without sharing individual browsing data with the browser vendor or anyone else.
One might think that sounds…okay? Well, until the Electronic Frontier Foundation chimes in stating FLoC is a terrible idea.
"The third-party cookie is dying, and Google is trying to create its replacement."
"Google is leading the charge to replace third-party cookies with a new suite of technologies to target ads on the Web. And some of its proposals show that it hasn't learned the right lessons from the ongoing backlash to the surveillance business model."
"FLoC is meant to be a new way to make your browser do the profiling that third-party trackers used to do themselves: in this case, boiling down your recent browsing activity into a behavioral label, and then sharing it with websites and advertisers. The technology will avoid the privacy risks of third-party cookies, but it will create new ones in the process."
Alrighty, now I'm a little concerned along with WordPress contributors who want to treat FLoC more as a security concern than a privacy concern. Read through the comments to find the different takes around the community. There's even a Trac ticket to monitor the concern.
Pull up a seat at the Tavern
Pour yourself a cold one over some of this week's notable articles from the Tavern! The upcoming Pattern Directory is set to launch with WordPress 5.8. The Jetpack team has launched yet another project, called Jetpack Boost. Interesting to see them launch this as a standalone plugin since Mullenweg has always flexed on the fact that Jetpack is modular.
An interesting conversation around banning companies that run competitive ads against WordPress from sponsoring WordCamps is open, well, until today.
Check out the conversation happening in the thread on the post. I think on the surface that makes sense, but then there's also the grey area of even how Automattic leverages the cross-branding of WordPress.
Time for the grab bag!