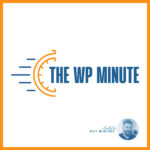 Now that WordPress 5.8 is here, what's next?
Many people have been using WordPress 5.8 since the release last week. Joe Casabona does a great review on his YouTube channel which covers improvements in the block editor, embedded pdfs and table improvements.
Justin Tadlock over at WPTavern does a rundown of plugins that test the theory that many features of WordPress 5.8 can be disabled until you are ready to address them yourself.
And the fun won't stop…Hector Prieto tells us What's next in Gutenberg stating:
Full Site Editing is the lighthouse goal for Phase 2 of Gutenberg. As such, it's good to remember it is a collection of projects that allow site editing with blocks, bringing powerful capabilities for a smooth editing experience.
Don't get left behind (and don't complain) about the features being shipped when you can see a lot of the conceptual work being done around Full Site Editing on make.wordpress.org.
Patterns all around me
WordPress.org/patterns might be the most exciting "release" around WP 5.8 for me, anyway. A browsable collection of block patterns that you can literally copy/paste into your WordPress page is really exciting.
I'm looking forward to seeing what others contribute to the directory when it's available.
WordPress on the rise…but not plugins?
David Bisset, Post Status chief curating officer, alerted us to a recent decline in active plugins through the year 2021. In contrast to the growth of WordPress, David reached out to others in the community to help draw a pattern:
There's no reason to panic but plugin authors and business owners should be aware of the trend and keep an eye on it. I think the sudden dip is what caught my (and others) eye. While noteworthy, the ecosystem could be "adjusting" as other industries are going through similar trends.
Pull up the post on Post Status for more visuals, including riveting graphs.
A win for accessibility + WordPress
Also over at WPTavern, Sarah Gooding covers the recent decision for Colorado to become the First State to Require State and Local Government Websites to Meet Accessibility Standards.
Colorado has more than 4,268 active local governments using WordPress and those responsible for local sites will need to begin the process of creating a plan to ensure they are accessible before July 1, 2024.
The WordPress.org Themes Team announced an open discussion and a date for a Zoom meeting with theme authors. This meeting is scheduled July 28th at 2:00 p.m. The team is proposing a new set of guidelines that reduces and simplifies what is currently in place.
The BuddyPress team released their block widgets 9.0. The new BP Widget Blocks are Legacy Widgets, rebuilt as BP Blocks. You can also access them in the Block Editor for use in your posts or pages.
Events
WordCamp US 2021 will be a one-day event scheduled for October 1st with networking opportunities, speaker sessions, workshops, and more. This was proposed after COVID cases are on the uptick again in the US.
From the Grabbag
Rich Tabor has made a new block plugin for adding markdown comments that only display while editing a post with Gutenberg. If you decide to test it, just remember the block only renders within the editor. For developers reading this, that means there's no save function.
Gravity Forms adds a new reCAPTCHA Add-On with their newest launch. They are providing Support for Google reCAPTCHA. With the new Add-On, all Gravity Forms customers can now integrate Google reCAPTCHA v3 in any or all of their forms.