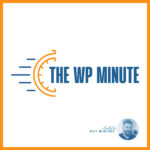 Joe Casabona is filling in for Matt this week, who's on assignment. 

In the News
Jeff Chandler has opened up subscriptions to WP Mainline. Subscribing to this site will eventually get you the most recent content about WordPress. At the moment you will provide financial support to Jeff as he publishes and produces audio content in the WordPress ecosystem.

Mode Effect, LLC, a full-service e-commerce consulting, development and management agency recently acquired Amplify Plugins, a WooCommerce and WordPress plugin development company to expand its plugin solutions to existing and prospective customers.
Termly, the GDPR Cookie Consent Banner is one of the easiest, most effective, and popular cookie consent plugins available for WordPress with over 200,000+ downloads. Just remember after upgrading, you will need to sign up for a Termly account from within the plugin, or on the site app.termly.io, then enable the consent banner again.
Sara Gooding reports over on WPTavern that PublishPress, makers of the PublishPress and PublishPress Blocks plugins, have adopted the Organize Series plugin from Darren Ethier. Organize Series is a 15-year-old plugin for organizing and displaying posts in a series, useful for novel writers, educators, magazine sites, and anyone breaking their longer content up into a series.
From the Grabbag
The first release candidate is now available for WooCommerce 5.6. WooCommerce is on track for the planned release for August 17th. Bob in his weekly Do The Woo podcast covers the highlights.
Travis Smith on the StudioPress blog writes about how you can quite simply pre-populate a "post" (regardless of post type) with the classic editor. So you don't need to add the Classic editor plugin any longer.
The latest Beaver Builder newsletter has a great WordPress checklist to use for your agency. If you're a web designer, you're probably skilled at the launching phase. However, it's still important to make sure you're covering all of your bases. To help you do that, you can use this website launch checklist.
If you are interested in linking a section of a page in WordPress, David Hayes from WPShout has created a quick guide on how to link page content and then how to add that link to a WordPress Navigation Menu. The quick guide shows you how to link users to a specific heading within an article.
And finally, after a couple of months of hard work, I'm happy to announce my new "Master Full Site Editing" course. It covers all of the new features of the block editor, and what you can do with Full Site Editing. You can get it now at 50% off by going to masterfse.com. Get it today and get free, lifetime updates. If you want to learn more about me, you can head over to casabona.org.