WordPress 6.4 is coming packed full of 100+ performance updates, along with some minor iterative changes to the overall UI. In a recent YouTube video, I took a look at RC1 available now to demo. Now's your chance to dive in ahead of time and see what changes are coming, for either you or your clients.
The biggest impact will be the new Twenty Twenty Four theme, which I've also previewed on the channel, but sans the Google Font management feature we were all looking forward to. Fret not, if you're running the standalone Gutenberg plugin, it's there. (Hat tip to Mark Constable on that one.)
Notable features will be:
New Twenty Twenty Four theme
Block Hooks
Start testing and providing feedback now.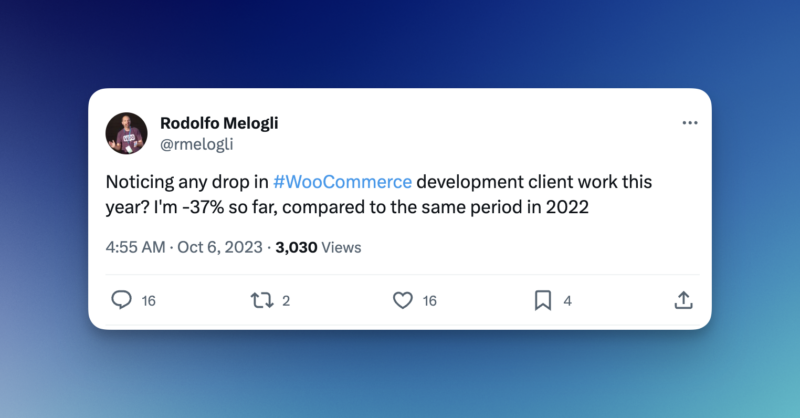 WooCommerce services down nearly 40%?
Rodolfo Melogli posted that his WooCommerce services are down -37% compared to his last year billings. Rodolfo Melogli on X
In Meloglis' post, "For context, 2022 was +31%, 2021 +7%, 2020 +10%, 2019 +7%" and expands on the actual hours billed:
2023 – 914hrs so far
2022 – 1138hrs
2021 – 992hrs
2020 – 1403hrs
2019 – 1350brs
2018 – 1029hrs
The heath of client services is something I'm always keeping a watchful eye on. While his experience might be silo'd to only his business, it's important to watch where the market is being disrupted.
Is the software of WordPress getting better, leading end users to DIY?
Is there a competitor coming in and chipping away at our massive pie?
Are budgets getting cut because of the global economy?
Which also leads me to explore and circle back on a small trend I've spotted: web hosts getting into the services business.
In a video I recorded over 2 years ago, I spell it WordPress now, I commented on Automattic getting into building websites for endusers. It's a long listen, but Matt Mullenweg hopped in and left some comments. Click the link to jump in your Time Machine and take a trip down memory lane.
Recently I spotted that Nexcess web hosting is also offering services for building websites too. Their price points range from $750 – $1,500 for core WordPress services. There's a WooCommerce option, but I don't have an account to see what they are charging a shop owner. Automattic's range from $500 to $5,000.
The Freelancer Dilema
As the software gets better, customers begin to focus on DIY. As page builders and AI improves, more competition also floods into the market. Web hosts cut your customer off at the hosting path before knocking on your door, reeling them back into their in-house services.
What's a freelancer to do?
I believe over the next two years we're going to see some strong consolidation for page builders on the market. Core WordPress page building will improve tremendously, and with the entirety of WordPress admin getting redesigned, potentially making all of WordPress blocks, we're going to relive a debate we had years ago:
Is WordPress a CMS or a framework?
I know, we just went 0 to 100mph real quick.
Freelancers looking to bolster business or stand out from the crowd should look to enhancing the services around them. Be more knowledgeable about your customer's business, than you are about WordPress the software. Know that we're in a 2 year dip where the chaos of where WordPress is headed, is just that, chaos.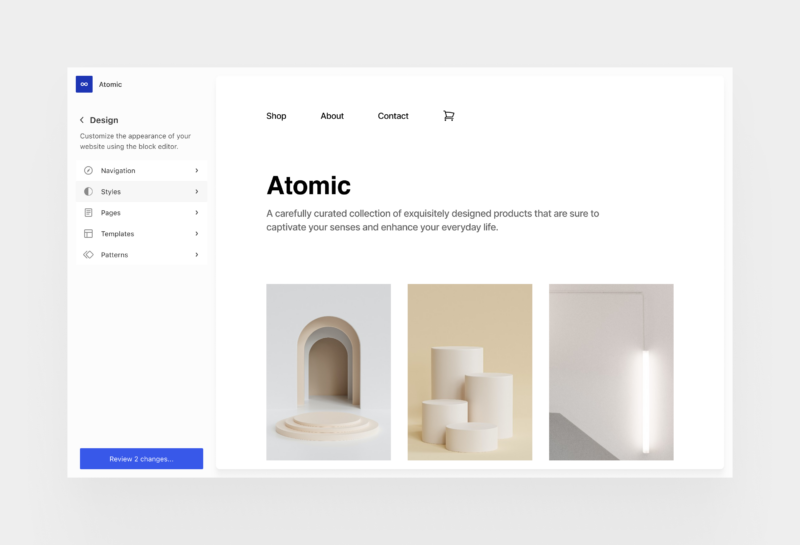 I believe we're going to see WordPress evolve into something really great. If I could tell ChatGPT to build me an entire app using blocks and it's a portable piece of software I can take to any host — who wouldn't want that?
Is it going to disrupt everyone? Surely.
Do I trust AI to do a good job? No.
Will WordPress still be the best open source software for humanity? Hope so.
What I'm saying is hunker down for now. There's still money to be made in services, when done right. Marketing, branding, packaging are going to be extremely important to your success.
Important links this week
It's been a while since I put together a grab bag of links, but here we are!