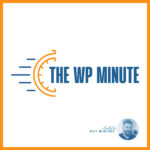 It's the WP Minute! This is Carrie Dils and I'm filling in for Matt, who's tweeting about podcasting.
This episode is brought to you by Easy Support Videos. Support your WordPress users by embedding videos and screencasts right inside the WordPress admin. Learn more at EasySupportVideos.com!
You know the drill, everything I mention here will be linked up in the newsletter and the blog post. Check out thewpminute.com for the links.
Let's get to the News
Stay tuned for the direction of block development in the next few months.
Justin Tadlock over on the WPTavern wrote about whether block development is merely a templating system with no build process. Since there still is a big concern around the direction of block development, he went ahead and reviewed where the React-based WordPress block editor (sometimes referred to as Gutenberg) had been hitting speed bumps for WordPress developers who have been more PHP Centric.
Helen Hou-Sandi also published on her blog how she spent the last 8 months telling anybody she talked to about custom WordPress block development. They were way less scary and much easier than she thought they were going to be for somebody with minimal React experience. She said that a big game-changer for adoption and shifting thinking would be to find a way to unify templating between the front-end and the editor, essentially swapping the places where you output content with the corresponding editor component.
My personal opinion: "That sounds amazing"!
Helen says:
"these are experiments and there will likely be many failed paths", and that the focus remains on the problem to be solved during the research and experimentation phase, not on the implementation details.
If you want the scoop on React and the possible direction of block development make sure you check out her post and follow updates on Twitter.
For you plugin developers seeing plugin changes on WordPress.org:
Mika Epstein reported on WordPress.org that inaccurate stats were adjusted for 100 plugins recently because of a stats gathering change. This means those plugins had their active install stats seemingly adjusted downward. She wants you to understand this was painful for a number of developers and they held off on announcing this as they were still doing a bit of triage and making sure it was blocked. Sorry about that confusion and it is corrected now.
Let's Talk about WooCommerce
If you follow Bob Dunn for WooCommerce news, he announced that his Twitter handle changed for all things Woo. Jump over to @DotheWoo for updates and news.
Moving on to the Grabbag
If you are a runner, walker, or crawler this one is for you. WordPress has a virtual 5k scheduled for October 1 through October 30. This race is virtual and "virtually" anyone can participate in the race with the possibility of completing the 5k race. You can track your route on your favorite app or record the 5k off the grid. And you can register for the WordPress 5k or just donate if you cannot participate. We are looking forward to seeing your progress and success. Just tag #wwwp5k.
And…Congrats go out to Jonathan Wold for joining Cory Miller over at Post Status. Keep your eyes peeled for good things coming from them.
That's it for today's episode, if you enjoyed please share it on your social media, leave us a review on Apple Podcasts or Podchaser. Don't forget to share share share this episode with others and jump on the mailing list at thewpminute.com.