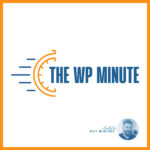 It's a familiar refrain: the WordPress project needs contributors. But getting involved can be difficult for individuals who aren't corporately sponsored. A new nonprofit organization is hoping to address this ongoing challenge.
The WP Community Collective looks to offer community-funded fellowships to financially support contributions to WordPress. Founded by Sé Reed, Katie Adams Farrell, and Courtney Robertson, the WPCC seeks both individual donations and corporate partnerships.
In its official announcement, the organization vows to promote transparency, community representation, and governance. Its first initiative involves the creation of an Accessibility Fellowship.
The WPCC says it plans to create a formalized organizational structure within the next year.
Next up (listen to the podcast for more): Michelle Frechette with the Community Minute!
Links You Shouldn't Miss
The latest episode of WP Product Talk covers what happens when your business starts to scale. Matt Cromwell spoke with Jason and Kim Coleman about the process of budgeting and forecasting for WordPress products.
It's time once again for the annual WordPress Survey. You are encouraged to share your thoughts and let the WordPress team know how you use the software. The survey will remain open throughout the rest of 2022.
ChatGPT, a chatbot powered by artificial intelligence, has surpassed 1 million users. The app claims the ability to answer follow-up questions and take instructions from humans. And, as WP Tavern reports, it also generated a WordPress plugin on demand. Web developer Johnathon Williams shared a recording of the process in action.
A proposed bill before the United States Congress has Facebook's parent company Meta threatening to pull news-oriented content from its platform. The bill would allow news outlets to collectively bargain with social media companies for a larger percentage of ad revenue. A similar bill was passed last year in Australia.
Another WordPress-related acquisition is in the books. Development firm Strategy11 has acquired the WP Tasty and Nutrifox suite of plugins. The company also owns Formidable Forms, among other popular plugins.
Classifieds listings buy yours
GapScout BETA Testers Wanted! AI software analyzes reviews written about your business (and your competitors), revealing profitable opportunities.
Grab your microphone and start your own podcast on Transistor.fm. Unlimited podcasts, awesome analytics, DAI, and more!
From the Grab Bag
Now it's time to take a look at some other interesting topics shared by our contributors.
New Members This Week
If you're not a member yet, go to thewpminute.com/support/ to join.
Thanks to all of the members who shared these links today:
Justin Ferriman
John Locke