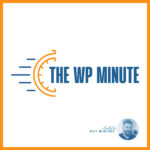 You'd have to be living under a rock to miss the recent WP drama unfold on Twitter.
In some quickly deleted fever-induced tweets, Mullenweg likened GoDaddy to a "parasitic company" that is an "existential threat" to WordPress. Explore more of the debate in the following articles:
Matt Medeiros' take on What would GoDaddy's WordPress look like?
WP Tavern recaps the Mullenweg twitter thread.
MasterWP's Rob Howard weighs in.
Finally, GoDaddy responds to (almost) the whole shebang in a Sarah Gooding interview.
Moving and shaking at Post Status
Long-time Post Status news anchor David Bisset announces his departure from the position. David will be taking on the role of Product Development for WP Charitable at Awesome Motive, after the company announced the acquisition of the plugin.
Michelle Frechette highlighted some of the assholes in the WordPress space. She recalls her first-person experiences in the community in Misogyny in WordPress is Real.
From our contributors and producers
Rae Morey explores the Australian WordPress vibe after WP Minute Producer Cameron Jones sparked the debate on Twitter.
WP Lift, long-time WordPress blog, is for sale over on Flippa.
How do you like your Classic Press? Shaken, stirred, on the rocks?
"Recent turbulence in the ClassicPress community has resulted in the directors resigning and new leadership installed. The WordPress fork is run under a non-profit organization called the ClassicPress Initiative. "
Sarah Gooding summarized the events at the Tavern.
Events
WordCamp US tickets will go on sale tomorrow, June 30th 2022. Visit the WordCamp US website for more information.
The Grab bag!
Twitter announced a longform writing feature.
The Lexman artificial podcast creates a completely original interview podcast…with itself…in different voices.
I enjoyed the outline of how Basecamp built the new "Bubble up" feature in HEY email.
Our very own Raquel Landefeld was on the Women in WP podcast number 86. We'd never 86 the Raquel!
Eric Karkovack highlights 10 Lesser-known WordPress plugins
Matt Report talks life after selling a plugin business with Corey Maass
Next up!
Get the Pulse on WordPress with Raquel Landefeld
Transcript

Hey, WordPress friends! This is Raquel Landefeld bringing you news on the WordPress Community.

3 1/2 weeks ago I attended WordCamp Europe and was blown away. It was everything our community needed. The surge to kickstart our in-person event scene. Or so I thought.

I went away from that event pumped to get my local WordCamp going but I was met with crickets and indifference. The effects of the pandemic, unfortunately. And, I believe my local experience represents the global WordPress community.

I hear a lot of talk from fellow WordPressers expressing how much they love not having to leave their homes and they lack the motivation to get even meetups going again let alone WordCamps.

The way I see it, our global WordPress Community is sitting comfy on their couches, watching Netflix with the curtains drawn, and is happily ordering UberEats.

I think I get it however, I'm not gonna sit back and be OK with this "new norm" because I don't believe it's what's best for humanity.

I believe we need to open our blinds and let the sunshine in. I believe we need to open our doors and smell the desert rain and feel the plush grass beneath our feet. I believe we need to be reminded of the beauty of human connection i.e. meetups and WordCamps.

I'm Raquel Landefeld giving you a kind wake-up call. What will it take to get you to open the blinds, and doors, and step outside again?

Have thoughts and questions for me? Because I do. DMs are open on Twitter @raquel__karina & @raque_l on IG.

https://twitter.com/raquel__karina
New Members
Welcome back Seth Goldstein for re-upping his WP Minute Producer membership.
Thanks to all of the members who shared these links today:
Cameron Jones
Sam Munoz
Raquel Landefeld