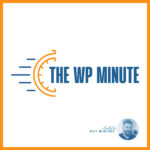 News
There have been a lot of people working with the latest 5.9 WordPress release and reporting their successes and failures. Tammie Lister wrote a post about the features in the editor and would like people to quit using the term FSE – Full Site Editing in 2022. The release is not an all-or-nothing proposal yet.
Matt Medeiros created a video on the future of page builders with Gutenberg when a discussion on Discord started with Justin Ferriman, a WPMinute producer. Go check out that video to see if you agree with the future of Gutenberg.
Anne McCarthy writes about some practical ways to lock your projects for clients and users that can make changes to a WordPress website. The new template locking API that was released in 5.9 along with newer tools like theme.json continues to be modified to adapt to the user experience.
The WordPress Photo Directory recently hit 1,317 photos and continues to grow. There has been a new Slack Channel created and the team is looking for volunteers and moderators to work on a new site being set up on the make network. The team needs help working through issues in the coming months.
So…
As we head into the iterative part of Gutenberg's phase 2, there will be changes for the community of users as they continue to look at WordPress. Josepha Haden Chomphosy writes that the Theory of Technology adoption that will come in three parts. Keep visiting make.wordpress.org to continue to get the latest updates.
Security
PHP Everywhere, a utility for web developers to be able to use PHP code in pages, posts, the sidebar, or anywhere with a WordPress Gutenberg block has Remote Code Execution vulnerabilities. WordFence reported that there are three critical vulnerabilities in PHP Everywhere all leading to remote code execution in versions of the software below 2.0.3.
There was a patched version of the plugin rolled out so if you are using this make sure that you are up to date as soon as possible to keep your WordPress site…well up to date.
From Our Contributors and Producers
Justin Tadlock over at WPTavern wrote a recent article about the Clarity AdBlocker for WordPress. Ads and upsells have been showing up in WordPress dashboards and many in the community have been complaining about it over the past few years. For many that get that exposure through the WordPress dashboard, this announcement was not well-received (to say the least).
If the default full-screen editing mode and welcome guide in WordPress is annoying when you first visit the edit interface, you can jump over to GitHub to grab the drop-in snippet to disable it.
Some may say that PHP is dead (or dying). There is a comprehensive article over at Kinsta that per W3Techs, PHP is used by 78.1% or almost 4 out of 5 websites. PHP seems to be very much alive and faster than before when updated to the latest release. You can go check out this article for the latest benchmarks.
Are you one of those people who hate working through your inbox and approach it with dread? There is a new interesting email product called Shortwave that provides a new experience with threads, history, and bundles. You should check it out as an interesting tool to organize your email and provide a nicer experience.
If you are a Beaver Builder Pagebuilder user, it is great to know that they have released a free library of courses.

Next up is the Creator Minute from our producers Michelle Frechette
and our Simplified Business Minute…Sam Munoz

"WP Career Summit" by Michelle Frechette
Transcript
This is Michelle Frechette with your WP Community minute. April 8 marks the first-ever WordPress Career Summit. Tracks will be dedicated to those looking for jobs and for employers. The job seeker track will include sessions geared toward helping those look for employment with talks about the job search, applying, and interview preparation.
The employer track will include sessions around recruiting, onboarding, managing remote teams, and more.
Over the last few years, I've watched people searching for jobs, and I've seen companies posting openings. The job market has been difficult for many. My hope is that a career summit like this will help both sides of the hiring table, while also allowing sponsors to show why you should apply to work for them. Sponsor spots are still open. This is a Post Status event, and I'm the organizer, so reach out if you have any questions. WP Career Summit is free to attend. For more information and to register, visit wpcareersummit.com!
"Simplified Business Minute" – Sam Muñoz
Thanks to all of the members who shared these links today:
Daniel Schutzsmith
Birgit Pauli-Haack
Joe Casabona
Jeff Chandler
Dave Rodenbaugh
New Members
We would like to welcome Thomas Maier Founder and CEO of Advanced Ads and webgilde GmbH to the WPMinute.
If you haven't noticed, the WPMinute got a fantastic new paint job…more than a paint job…also under the hood. This thing is screaming fast. Thanks to Mike Oliver for designing the new WPMinute theme for us built on Generate Press. If you are looking for somebody that does amazing front-end design and optimization, look no further than WPMinute Producer, Contributor, and web developer Mike Oliver. Thanks to his hard work on the redesign.
Thanks to you, dear listener, for tuning in to your favorite 5-minutes of WordPress news every Wednesday.