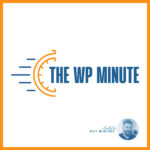 It's the WP Minute! This is Michelle Frechette and I'm filling in for Matt.
This episode is brought to you by Easy Support Videos. Support your WordPress users by embedding videos and screencasts right inside the WordPress admin. Learn more at EasySupportVideos.com!
You know the drill, everything I mention here will be linked up in the newsletter and the blog post. Check out thewpminute.com for the links.

It was a busy week for News
Sarah Gooding at the WPTavern covers the push toward Full-Site Editing and the announcement of a new Default Theme for WordPress 5.9. This is the last scheduled release for 2021. WordPress 5.9 is starting to take shape as Josepha Haden Chomphosy published a planning roundup at the end of last week with a tentative schedule and scope. Head over to the get involved page on WordPress.org to see the schedule and participate in this important release.
Jetpack has acquired Social Image Generator, a WordPress plugin founded by Daniel Post. The Social Image Generator automatically creates social image shares for your content, saving hours of tedious work. It creates images for all major social networks including Facebook, Twitter, LinkedIn, Pinterest, VK, WhatsApp, iMessage, and Reddit. Simply share your content as you normally would, and the images will automatically appear. Daniel will be joining Jetpack to continue the work on the Social Image Generator and integrating it with Jetpack's social media features. If you are interested in influencing the future of the product, you can schedule time with Jetpack research for a chat.
Alex Denning shared a tweet about his interesting post on the getelipsis blog and what the future of WordPress searches will look like after COVID-19. The headline takeaways from the research showed average monthly searches in Jan-Jul 2021 compared with the averages for 2020 to be:
Overall WordPress searches are down by -6.4%
WooCommerce searches are down by -8.8%
Theme searches are down by -16.7%
To see this fascinating research, jump over to the blog post to cover the nuances around WordPress searches.
Luis Herranz tweeted that it has been a couple of weeks since the official announcement of Frontity and Automattic. If you would like to see his perspective and excitement about this move check out his blog post.
Keeping up with Ful-site Editing (FSE)
If you're a curious mind wanting to keep up with how full site editing is evolving, Mattias Ventura proposes a look to global styles in the user interface with what we might expect in future WordPress versions.
Elements like how global typography, colors, and layout spacing options are all shown in the Github issue tracker.
From the Grabbag
Intuit announced that they will buy email marketing company Mailchimp for $12 billion in cash and stock. That's billion with a B. Matt covers this with Leslie Simm in a separate podcast on The WP Minute.
How do we deal with all the changes in WordPress as an entrepreneur? Cory Miller and David Bisset have a great discussion on the PostStatus podcast about resilience working in this environment. It is important to have a team of support around you so you do not feel like you are working in a vacuum.
Speaking about PostStatus, I have a recent post on Diversity vs. Inclusion: Why Tokenization is Harmful. This will be a series to follow to see how you can become better at inclusion.
In addition to the work I do at GiveWP, I've recently joined Post Status as a contributing writer and podcaster. My areas within the organization will cover job seeking and hiring within the Get Hired podcast and blog, as well as inclusion and representing underrepresented populations within technology. Be sure to visit PostStatus.com for more, and underrepresentedintech.com for the unrepresented in tech issues as well.