WordPress has been the content management system (CMS) market leader for over a decade. According to W3 Techs, the software has ranked #1 since at least 2012.
As of this writing, WordPress powers over 43% of websites. To put that into perspective, only about 32% of websites aren't using a CMS.
This list also includes 11 other systems. The vast majority of them are proprietary platforms. Combined, they make up a mere 16.1%.
Some competitors have made significant gains. And WordPress growth has flattened during the past couple of years. Still, the gap between WordPress and its nearest competitor (Shopify) is over 39%.
Thus, WordPress appears to be in great shape. In the foreseeable future, at least.
But what would it take for another CMS to beat WordPress? Or even grow to take half its market?
It may seem far-fetched. However, WordPress isn't immune to the world around it. And stranger things have happened.
With that, here are a few thoroughly unscientific theories on the subject. How realistic are they? We'll leave that for you to decide.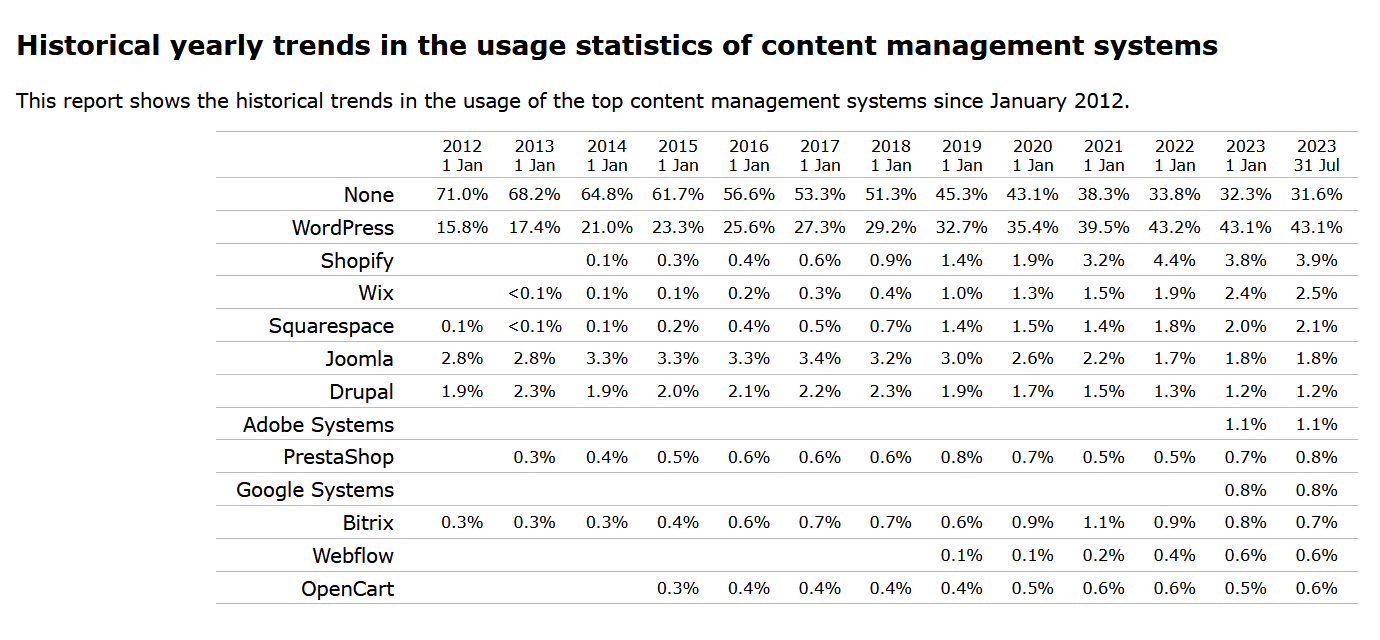 It Probably Won't Be an Existing App
The CMS market is full of competition. Some apps are geared towards general use (Drupal, Wix, etc.). Others cater to niche functionality like eCommerce (Shopify, PrestaShop).
Are any of these competitors fit to take on WordPress? It doesn't seem likely.
Shopify, Squarespace, and Wix have made inroads. But they're also proprietary platforms. That may limit growth potential concerning usage numbers.
And the other open-source tools on the market have had middling success. Joomla and Drupal are the top names. But each has seen a decline in usage.
The best these platforms can hope for is a collapse of smaller competitors. They might scoop up new users in the process.
None of this necessarily speaks to quality, though. Features and ease of use matter to website owners. If an existing platform had a breakthrough, that might change things.
Until then, we'll see others attempt to chip away at the formidable lead built by WordPress. Whether any can make significant progress remains to be seen.
A New Open-Source Platform Would Be Best Equipped
There are plenty of reasons why people choose WordPress. The software is free and highly portable. You don't need to use a specific hosting provider. And it retains backward compatibility.
There's also a massive ecosystem for extending WordPress. Users can choose from an almost endless array of themes and plugins. And you can also build custom solutions.
These items are keys to how WordPress has achieved such dominance. It also stands in stark contrast to most proprietary systems.
Paying to access a walled garden has its benefits. But it's unlikely to scale like WordPress. Thus, a serious competitor would have to adopt an open-source model. And a similar focus on extensibility is vital.
A new platform may be the best bet here. It doesn't have a loyal community yet. But it isn't weighed down by any baggage, either.
There's a chance to learn from others. Project leadership could study what makes WordPress successful. More importantly, they can identify missteps. They can then focus on building an organization that hits the ground running.
It's easier said than done, though. This type of project requires vast resources and a dedicated community. Participants must buy into the project's mission. And there must be a long-term vision for sustainability.
Such a commitment is necessary. WordPress has a 20-year head start, after all. And the project continues to reinvent itself. You won't catch up overnight (if ever).
A Focus on Distribution and Easy Installs
It seems like WordPress is everywhere users are. For example, web hosts typically offer single-click installations. And a variety of providers specialize in the CMS.
That very much includes Automattic's WordPress.com. Project co-founder Matt Mullenweg's company boosts the onboarding experience. It also takes the guesswork out of hosting and software maintenance.
If a rival CMS wants to compete with WordPress, they'll need widespread distribution. That will require courting the hosting industry.
Mainstream users expect a hassle-free install process. They're unlikely to download an app and install it themselves.
There's no telling how many of us discovered WordPress because of its presence on our web hosting. A competitor must gain similar visibility.
Software That's Performant and Powerful
A great strategy can only get you so far. You also need a killer product. It's an area where a new open-source CMS could make an impact.
There's plenty to like about WordPress. But its dashboard UI needs an overhaul. And third-party developers have only made matters worse. The user experience isn't cohesive.
WordPress also contains a lot of technical debt. Its code isn't as performant as it could be. The project is taking steps to improve performance. But this is the price paid for 20+ years of success.
These lessons are valuable to a new CMS. Performance and accessibility can be a core focus. All while striving to maintain flexibility.
There's also an opportunity to reinvent what a CMS should look like. A unified user experience could attract converts. Clear developer guidelines would ensure that the ecosystem plays along.
A blank slate can be a beautiful thing. It offers more agility. It may be the only advantage a new app holds over an established one.
It Won't Be Easy to Replicate What WordPress Has
Any CMS that aims to put a dent in WordPress's armor faces an uphill battle. They'll need steady leadership, a great plan, and a desirable product. But even that isn't enough.
Replicating the success of WordPress also means building a community. One that contributes and shares. A committed group that keeps evolving. That may be the tallest mountain of them all.
The WordPress community sprung up organically. People found software they liked and added to it. They helped build new features and a thriving economy.
The timing was also unique. WordPress came along when most CMS options were limiting. Users needed an easy way to publish content. Web designers needed a platform to build custom sites. Perhaps it was Kismet (or Akismet 😄).
Besides, the ideas above also assume that WordPress stagnates. There's always a risk of that happening. The project could become a little too comfortable in the top spot. That could open the door for a competitor to swoop in and grab user attention.
Therefore, it's up to the community to keep moving forward. That will help WordPress to maintain its edge against all comers.
Technically speaking, another app could come along and match WordPress. But it's unlikely to happen anytime soon.