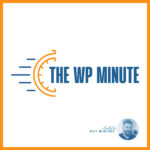 Liquid Web continues to expand it's nexus of acquisitions with it's latest grab of GiveWP. From GiveWP's own blog post:
The future of GiveWP remains a top priority.
Every team member is critical to our success.
Leadership of the team and product are staying the same.
You can check out our own interview with the GiveWP's leadership team, Devin Walker and Matt Cromwell at thewpminute.com and friend of the show Joe Casabona featured a chat on the How I Built it podcast.
Can't get enough audio/video? How about over 2+ hours on the future of WordPress?!
The WP Cafe podcast sat down with Josepha Haden Chomphosy & Matt Mullenweg to highlight the project's future as of May 10th 2021. As you'd imagine most things point to Gutenberg, Full-site editing, but one particular discussion I thought was interesting was the term Universal Themes. Give this show a listen to learn more about that or attention a scheduled Universal Themes Hallway hangout on Friday May 14th at 14UTC
WP Builds hosted a discussion as part of their Page Builder Summit event with 3 employees from Automattic titled "Preparing for the future of WordPress" This time a much more technical and tactical illustration of the project. Tune in to listen to Marjorie Asturias Director of Growth R&D, Anne McCarthy Developer Relations Wrangler, and Donna Cavalier a Technical Content Writer.
With the future comes the…past?
Tonya Mork and Andrew Ozz collaborated on a plugin that halts the block-based widget functionality for those of us needing to opt-out of that potentially critical component of a WordPress site. The plugin notes that support will carry through 2022.
WordPress Tavern reports that Jetpack has made more features available without connecting to WordPress.com. But not to be outdone by it's own updates, learn why the .com connection is important over at Jetpack.com. It also serves as a great resource for the features you can use without the connection.
From the grab bag!