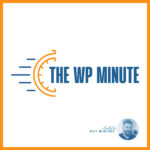 News
Is it finally time to retire WordPress Multisite?
Rob Howard wrote an article over on MasterWP that Multisite is a solution to a problem that no longer exists. The cool things that Multisite offered like sharing themes and single sign on just don't seem as important to developers these days.
Rachel Cherry tweeted a response that it may just be too early to consider removing Multisite as there is still a big audience in higher education that would be impacted by this.
(p.s. Subscribe to Matt Report to hear an upcoming interview with Howard, new owner of MasterWP.)
Early in February the community had many discussions about Diversity in WordCamps and Meetups. Allie Nimmons wrote a great post on MasterWP about a better journey to diversity. Go read Allie's important article to help get a better understanding on how to approach and discuss diversity.
Sarah Gooding over on the WPTavern writes that Strattic has acquired the WP2Static plugin. Strattic plans to relaunch the plugin on WordPress.org to improve its discovery, installation, and update process.
From Our Contributors and Producers
Jetpack has released a new way to build your own Jetpack. Release 10.7 includes My Jetpack, a brand new dashboard for managing your Jetpack products and plans in a single place.
With all of the nervous watch on the war in Ukraine, it seems that Namecheap is kicking out their Russian customers, with a 6 day notice. Konstantin Kovshenin tweeted the news.
Andrew Palmer was recently on the Matt Report discussing Artificial Intelligence for WordPress. If you want to check out the exciting direction of AI you can download the bertha.ai plugin from the repository and listen to this podcast to see what's next in WordPress & Gutenberg.
Ryan Breslow continues the Shopify discussion this week on how they are eating their ecosystem. This is another interesting thread/perspective on Shopify's end-to-end commerce platform.

Next Up You are on the Creator Clock with Joe Casabona
"YouTube Thumbnails" by Joe Casabona
Thanks to all of the members who shared these links today:
Jeff Chandler
Birgit Pauli-Haack
Daniel Schutzsmith
Michelle Frechette