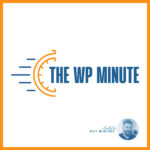 Welcome back to the WPMinute's Special Edition interviewing our new community lead, Raquel Landefeld. Raquel is the event coordinator at Elegant Themes and will be coordinating content and interviews for the WPMinute.
A Little History on Raquel
Raquel manages the Meetup Pro Community for Elegant Themes. There are over 50 Divi chapters all over the world. Raquel coaches Meetup organizers on how to human where the emphasis and focus is on human connection. She also helps manage the Elegant Themes Facebook group with over 70K members and coaches the moderators on how to moderate the group with kindness.
Raquel discusses how there are rules in the Facebook group to address new users of Divi and where users can be directed for specific help.
With so much WordPress news, the challenge is centered around channels supporting independent content on the Discord server for the WPMinute. Matt and Raquel discuss the mission of the WPMinute, how the news is curated and how members interact.
The WPMinute brings the human voice from the group presenting in a short form podcast. Raquel shares her great ideas of sharing short video clips and when we can meet in person, hosting a small WPMinute group meeting at a conference.
If you want to become a member of the WPMinute and you want to take part in the weekly WordPress news, join our merry band of "WordPress newsies" and chat it up, get yourself mentioned in the newsletter and get credits in the show, become a contributor or producer of the show!