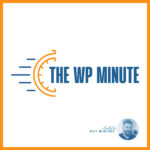 It's the WP Minute Shopping Show!
I'm your host Matt and I am delighted to share 5 great WordPress products with you this week.
What's the WP Minute Shopping show all about?!
You'll get to hear from WordPress product owners pitch their product in 1-minute or less. If you're interested in their product, please visit their store. The better they pitch, the better chance they have that you might be buying — maybe even spice things up for you with a discount code.
You'll have to keep listening to find out.
For product owners, it's a great way to talk about your cool new feature, version, or add-on. Want to support The WP Minute project and get your pitch heard? Buy 3 spots on the WP Minute Shopping Show!
Tune into the WP Minute Shopping Show each time you see it on the feed to learn more about products, their owners, and what deals they might have in store for us.
WordPress products on the show today: