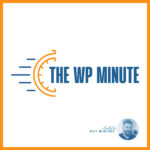 Our inaugural Member Sunday Spotlight is here and we're honored to highlight Daniel Schutzsmith.
A thrice WordCamp organizer, now carving out a niche for WordPress livestreams with his latest project, WP Livestreams. With a passion for livestreams throughout the pandemic, Daniel stumbled into a real need for livestream creators and viewers.
With so much great WordPress content being streamed, he hopes to make his website the go-to destination for the community to find new content across YouTube, Twitch, Twitter spaces and whatever technologies come next. Quite a natural direction for someone who thought he'd hang his hat on radio broadcast before getting into programming.
It was a real treat to listen to this interview lead by former WP Minute Managing Editor, Paul Lacey. Don't forget to say hi to Daniel in the WP Minute Discord server or on Twitter.
If you enjoyed today's episode, please share it on social media.
Consider becoming a WP Minute member too! Join our annual membership including access to the Discord server, getting Producer rights to this very news channel and take part in the the #linksquad. We're nearly 50 strong, so why not join us? Grab your membership at buymeacoffee.com/mattreport